Liberty Mutual app makes claims easier to process
Gabriel Felix, a Laveen resident since 2007 and an insurance agent for Liberty Mutual, recommends reviewing homeowners and renters insurance policies before a burglary to make sure they are covered in the case of theft.  "Knowing your coverage limits and deductible is very important information to have when any loss occurs," Felix said.
Many insurance companies give discounts for homes with burglar alarms and monitored home security systems, discounting annual premiums for such deterrents. Felix says that Liberty Mutual also offers the Home Gallery App, a free and easy to use app that allows homeowners to create an organized inventory of the items in their homes, making navigating the claims process easier in case of a theft or burglary. The app also can help homeowners and their insurance agent determine the right amount of coverage needed to help protect themselves and their belongings.
Most insurers offer different discounts and it is best to check with your insurance company to see what specifics your policy offers. Knowing and understanding that information will make navigating a loss much easier, Felix added.
For more information about homeowners or other insurance, visit https://www.libertymutual.com/gabriel-felix or contact Felix at 602-818-9182.
Local dairy donating to Phoenix Children's Hospital
During the month of February, Danzeisen Dairy will be donating a portion of proceeds from the sale of all Danzeisen Dairy products to Phoenix Children's Hospital.
Danzeisen Dairy is a local, family-owned and operated dairy in Phoenix for more than 50 years. It is the only Arizona dairy to bottle milk in glass, recyclable bottles and its products can be found in Bashas, Safeway, AJ's Fine Foods, Sprouts and Whole Foods.
This is the first year that Danzeisen has partnered with Phoenix Children's.
Visit www.danzeisendairy.com for more information.
Local horse expert gains animal reiki certification
Tami Blake, owner of The Enlightened Horse equine care business, recently earned her animal Reiki certification. Reiki is a healing technique based on the principle the therapist can channel energy into the patient by means of touch, to activate the natural healing processes.
The Enlightened Horse provides photopuncture and light therapy to improve horses' performance and wellbeing by bringing their body back to balance by eliminating pain. The business also sells both human and equine In Light units.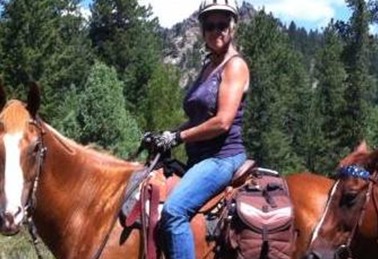 Blake is a certified photopuncture technician and has completed courses in equine anatomy and physiology and the Masterson.  Blake is offering human clients their first photopuncture visit for free. Her credentials include: Certified Equine Technician, Certified Animal Aromatherapy I,
Masterson Method – equine bodywork and Reiki I & II.
Visit theenlightenedhorse.com for more information or call 602-790-9404.
Dunkin' Donuts plans mid-February opening
At print time, the local franchise of Dunkin' Donuts was expected to open on Feb. 22, according to a spokeswoman.  She said the store is planning to hold a grand opening event on Feb. 27. The company also is finalizing plans for a coffee deal/offer for local residents.
February class offered on starting pet-sitting business
Teri Ann Tate, owner of Comfy Pets of AZ, will be teaching would-be entrepreneurs how to turn pet-sitting efforts into a full-time business. The two three-day seminars also will include professional training on medical care for both small pets and horses, determining what services your business might offer, how to deal with difficult clients, marketing and social media.
The first New Professional Pet Care Provider Boot Camp is set for Feb. 19-21 in Laveen and the second is scheduled for June 24-26. Tuition is $400. Classes take place on three consecutive days, Friday-Sunday, starting at 8:30 each morning.
Tate started pet-sitting part-time 16 years ago, and has since grown Comfy Pets of AZ into a well-established business that provides a variety of pet-related services in Laveen and Fountain Hills, ranging from pet-sitting to dog walking to teaching pet CPR and First Aid to other professionals.
During the Boot Camp, Tate also will discuss the legal forms necessary to become a full-service business. As part of the intensive training, participants will earn certificates in Pet First Aid and Advanced Pet First Aid, as well as Equine First Aid.  Tate is certified in the following: Certified quine First Aid Instructor (EFAI), Pet Tech Instructor (PTI), Emergency Animal Medical Technician I, EMT, Wilderness EMT and Large Animal Rescue Tech II.
Visit www.comfypetsofaz.com for more information.
Do you have some news you want to share about your business? Email your information to the South Mountain District News with subject line: BUSINESS BRIEF. This is a perfect time to let people know about a business anniversary, special sales or events, an expansion, the addition of new staff, a promotion, etc. Send to smdnews@cox.net